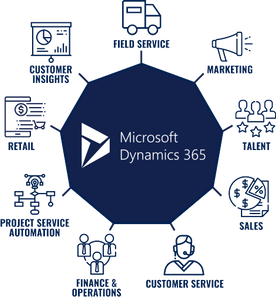 Understanding Microsoft Dynamics
In today world, a lot of business applications exist on the market. Those applications can have many utilities. Indeed, it can be for accounting, human resources or even management or customer relationship management. Microsoft dynamics is one of those software. This software is part of the family of Microsoft applications. The main purpose of this application is helping in maintaining customer relationships, track sales leads, marketing, and deliver actionable data. 
Who can Benefit from a CRM:
Both small businesses that want to grow and big businesses that are looking for large scale solutions. For small and big businesses, it helps by accelerating business with cloud services and building a competitive advantage. For the marketing part, it helps improving the customer's journey by generating multichannel marketing campaigns and nurture sales-ready leads. This can lead the business to foster leads, make better decisions and adapt quickly to the market. 
Also, Microsoft dynamics can help any business improve it sales by empowering sellers to drive personal engagement with customers. Indeed, it helps to grow the business by improving the winning rate with a dynamic, event-driven sales process. Also it helps the business staying focus by finding the right prospects and customers and building a high performing team. 
Microsoft dynamics makes customer service effortless by helping improving the engagement, personalizing the service and streamline the customer service. Also Microsoft dynamics offers projects service automation by improving project profitability with integrated planning tools and analytics. This will help the busines Improve project management, optimize ressources and finally increase productivity.
If you are planning to add a CRM in your business or need more information about microsoft dynamics you can directly contact us.  
---