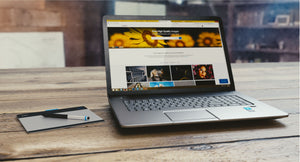 Why a website should be responsive?
In our days, with arriving mobile devices and their excessive use, having the responsive site is essential to stay visible in Google's mobile search results.
What is a responsive site?
A responsive site (Mobile Friendly Website) is a website that offers the user a comfortable experience whatever his range of device is(desktop, tablets, mobile phones, TV ...).
To wait for the results, the best solution recommended by Google is the use of Responsive Web Design (RWD). It's a technology that will ensure an adaptive layout to the width and height of the user's screen. It allows to share links to content with a single URL, facilitates project maintenance (same HTML code for all devices) and helps optimize website indexing in search engines.
Why adopt Responsive Web Design?
Choosing responsive design means:
• promote the pleasant user experience which is an important element for SEO;
• reduce the loading time of the site,to offer users a display adapted to any device spells;
• index a larger portion of the site's content and update it properly;
• improve the position of your website: in January 2017 Google has specified that the mobile-friendly criterion will remain a ranking indicator.
If you have any questions or you want to learn more about the solutions that we can offer you can directly contact us. 
---